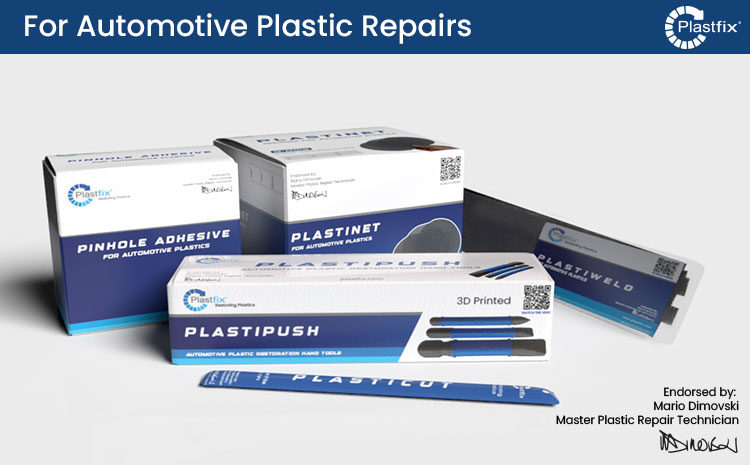 Plastfix Launch – Plastic Repair Specialty Tools & Materials
Plastfix brings together years of workplace experience and a tested track record of high-quality automotive plastic repairs which has culminated in Plastfix producing its own specialty range of tools, materials and products for the collision repair industry. Previously only available to Plastfix direct customers, we have designed and sourced our own fit for purpose products which is extensively used by the Plastfix team of technicians across Australia, New Zealand and now in the USA. The specialty range consists of Plastic welding rods, 3d printed Heat and push hand tools, Pin Hole adhesive, finishing files and sanding net abrasives.
Plastfix specialty tools and products is fully supported by Plastfix's specialized Certified Training programs which follows recommended OEM manufacturer repair specifications to ensure consumer safety and customer satisfaction by providing the highest possible quality of plastic repairs.
The Plastfix's methodology is founded on "Repairing over Replacing" with new plastic parts, which can significantly minimize automotive plastic waste to landfill, reducing CO2 generated by the automotive manufacturing and repair sectors whilst providing environmental benefits to the whole community.
Endorsed by Industry pioneer, innovation specialist and Plastfix founder and certified Master Technician, Mario Dimovski who has over 30 years of automotive plastics experience, has led the way in improving the plastic repair process in the industry. Years of testing and designing by the Plastfix team has created our own high-quality range of specialized tools and products tailored for the automotive plastic repair market.
The release of this newly designed range of Specialized Training and Specialty Tools and Products to the automotive repair industry is backed by years of extensive development under workplace conditions and endorsed by the industry's leading plastic repair solution provider, Plastfix.
The specialized training packages, specialty tools and products will be available to distributors from early June in Australia and New Zealand with distribution to the USA and Canada is in the final stages.
Plastfix is now taking expressions of interest.
Please contact us at: support@plastfix.com