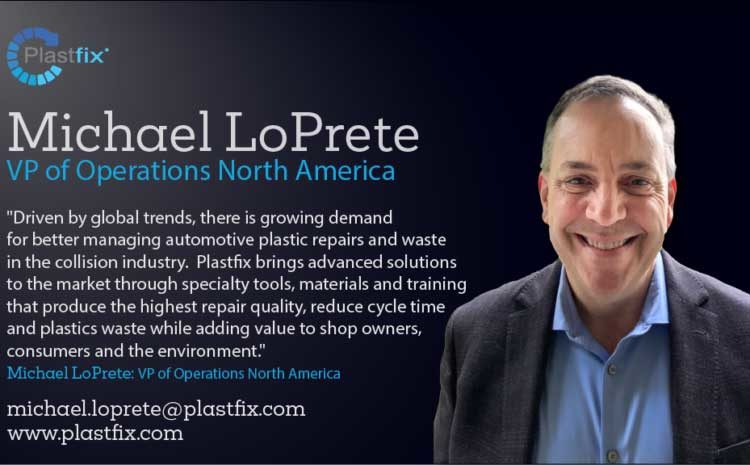 Plastfix Appoints Michael LoPrete
Plastfix Industries is proud to announce the appointment of Michael LoPrete as its Vice President of Operations North America.
The role will see Michael working from his USA base to set up North American Operations and engage with the collision repair industry to promote the company's unique speciality tools, materials and certified training programs.
Plastfix is a global leader in the collision repair industry managing 50,000 automotive plastic repairs per year and growing, servicing the two largest MSOs in Australia and New Zealand. It has to date diverted over 660 tonnes of automotive plastic parts from landfills by restoring suited damaged plastic parts such as bumpers and headlights. The company and its founder Mario Dimovski have established a reputation for its pioneering work over the past 30 years in advancing plastic restoration solutions, delivering high quality training and the development of specialty tools.
Plastfix was founded by Master Automotive Plastic Repair Technician Mario Dimovski in 2015. He launched its unique model of providing in-house, certified plastic repair technicians to the industry while setting up working relationships with industries MSOs and insurance companies.
Plastfix has quickly established itself as a leading innovator in plastic repair, working collaboratively with various industry, government and community projects.
The company's flagship products are its own custom designed and registered 3D printed hand tools made specifically for plastic repairs. Plastfix also has its own assortment of metal finishing files, advanced welding material and a line of mesh abrasives specifically designed to excel on plastic parts.
The tools and materials are supported by Plastfix's in-house certified plastic restoration video training library. It is the largest in the world, with over 100 titles providing Estimators, Managers and Technicians knowledge on all matters of automotive plastic repairs developed at their state of the art Digital Training Studio by industry expert and Director of Training John Morrissey.
Michael brings 20 years of collision repair industry experience to Plastfix Industries working with repairers, distributors and OEMs at sister company Tradiebot as well as the Ford Motor Company, Akzo Nobel, Transtar Autobody Technologies, BASF and Hedson Technologies. To support the industry, he is an active participant in Collision Industry Conference (CIC) and a member of the Society of Collision Repair Specialists (SCRS) as well as the Collision Industry Electronic Commerce Association (CIECA). He earned a B.A. from Albion College and an M.B.A. and M.S. from Indiana University.
.Mario Dimovski said:
"This is an exciting period for Plastfix as we get to showcase our speciality IP to the North American collision repair market. I have been repairing plastics since I was 16 and have spent 30 years fine-tuning the Plastfix Repair Process through the innovation of new techniques and the development of specialty tools that allow for the highest level, quality repair with no use of filler.
Like many businesses the COVID-19 restrictions impacted our service business dramatically. We were fortunate to retain all staff across Australia, New Zealand and the USA with the support of government stimulus packages and ongoing work from our key clients. We maximised the down time caused by the pandemic, assessing our market position as an industry leader and the growing demand for such sustainable plastic repair solutions. We worked through significant accumulated interest from years of promoting our solutions and have built strong plans to increase value to our growing network of partners. The result was a decision to take the Plastfix Repair Process to market with the release of our specialty products and online training.
Michael will lead our efforts to provide outstanding solutions in cycle time, quality of repair and waste reduction to our network.
The timing for Plastfix expansion is right. The industry is showing an increasing interest in the Plastfix offerings. As pressure rises to provide more environmentally friendly options, especially around plastic parts, our solution will add even more value to the shop owner, consumer and environment."
These elements form an innovative system that will enable Michael and the team to work across the industry, from Individual Shop to MSO to Banner Group to OEM to Insurance, promoting the Plastfix Repair Process as the collision industry standard for the repair and restoration of plastic parts.
Michael LoPrete said:
"It is very exciting to join the team at Plastfix Industries. Mario Dimovski is a true innovator in the collision repair space. He is driven to build something special that provides great value to our customers while making an earnest effort to address the growing problem of plastics pollution and waste management. It is my pleasure to join the battle.
Something as simple as repairing a damaged plastic bumper is often skipped in the interest of perceived expediency and quality. Yet a properly repaired bumper is significantly more likely to be the right fit in re-assembly, costs measurably less than purchasing a replacement part and reduces cycle time. All that is needed is the right combination of process, training, equipment and supplies.
Parts that have been routinely scrapped and replaced can now be repaired and re-used. Those saving can be captured, and carbon credits can be managed. When a plastic part must be scrapped, Plastfix is committed to finding ways to convert it to a raw material that it can be turned in to another useful product."
Micheal has hit the ground running in 2021. There are several exciting developments underway for Plastfix with the launch of its North American business, securing key partnerships with a leading industry training and significant MSOs. Plastfix also plans to launch of a 3D Printing Lab in Europe that has been busy working on 3D printing systems and solutions. That project includes a major collaborative partner to develop advanced 3D printing materials for the manufacture of new tools, repair tabs for bumper covers and headlights together with other plastic replacement parts. Everything will be brought to market through our growing repair and supply network.